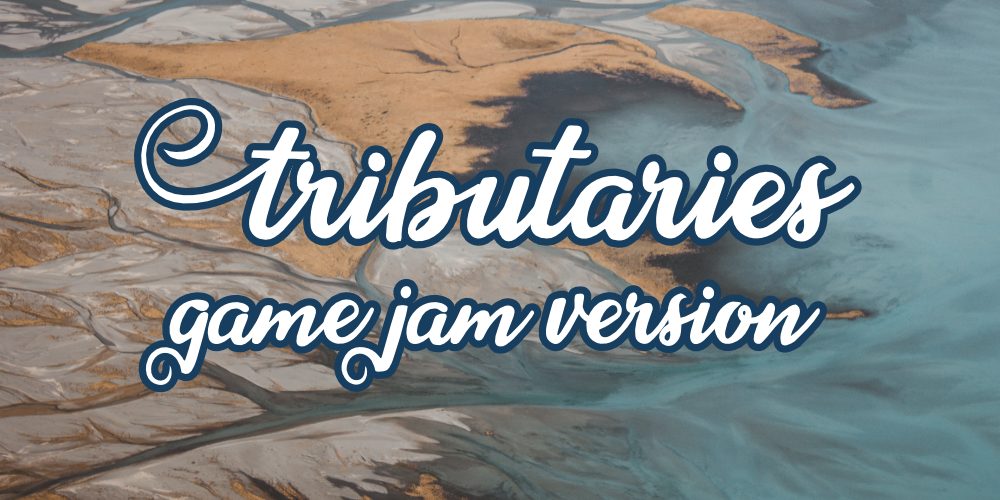 Tributaries - Game Jam Version
A roleplaying game by:

Olivia Montoya
Lauren Lenzen
Claire Cummins
Jacki Trelawny
This version of the game was created in 2 days as a part of the Clitical Hits Sex Education Game Jam. Future versions will be more polished.
Time: 10 minutes prep, 50 minutes maximum play, 10 minutes debrief
# Players: 3 to 5 per group, 1+ facilitators (depending on number of groups)
Tributaries is a scene-based roleplaying game following the story of a "spotlight character" and featuring a definitive outcome established before play begins. Players use cards to establish the outcome and several scenes that lead into the endpoint. Cards are also used by players filling the roles of side characters in each scene to influence how the scene plays out. The scenes leading up to the outcome are referred to as "tributaries" because they are like smaller rivers flowing into each other, converging at a confluence influenced by all of them.
A set of three decks of cards are used to play through each run of the game. The specifics of this set make up a "playset," to tell a specific type of story.
For this playtest edition of the game, we have prepared a single "playset" about teen pregnancy, which uses these rules to tell a story about a teen who becomes pregnant and decides to parent the child. That is the "outcome" of the story, and players will play a series of scenes to establish more about the spotlight character and their life and the factors that influence them to make that choice.
(For the playtest playset, the yellow cards are Deck 1, the green cards are Deck 2, and the blue cards are Deck 3.)
Tributaries is licensed under the Creative Commons Attribution 4.0 International (CC BY 4.0) License (https://creativecommons.org/licenses/by/4.0/).
(We plan to release a formal system reference document later on.)

Download
Click download now to get access to the following files:
Tributaries Rules - Game Jam Version.pdf
57 kB
Playset Cards - Game Jam Version.pdf
2 MB